2016 Seoul, Bordeaux, Heilbronn and Samarkand Challenger Recaps
Chris De Waard, Tennis Atlantic
Seoul
Top seed John Millman came through the first two rounds in straight sets, but not without a price to pay, as he had to withdraw from his quarterfinal match against Lukas Lacko citing a left ankle injury. Fifth seed Yen-Hsun Lu knows the feeling, playing only his first tournament of the year here after being out with injury himself. Lu started in fine fashion, shaking off the rust in three sets against Di Wu in the first round, before winning his next two matches in straight sets. Lacko was his biggest challenge thusfar, but Lu survived it in three sets, 7-6(4) 5-7 6-3.
Third seed Sam Groth ended his bad streak of losses against very low-ranked players with two three-set victories in his first two rounds, after which he faced Alexander Kudryavtsev in the quarterfinal. Kudryavtsev took out sixth seed Tatsuma Ito a round earlier, 7-6(6) 7-5. Disaster struck once again for Groth, however, having to retire at 4-1 down in the first set citing a right wrist injury. Kudryavtsev was an easy prey for Sergiy Stakhovsky in the semi-final, who beat him 6-2 6-4 and reached the final without dropping a set. There Lu's comeback was given a mind-blowing ending, with Stakhovsky saving not less than seven match points to take down his fifth Challenger title, 4-6 6-3 7-6(7). Stakhovsky reentered the top 100 at #96, rising twenty-two spots. The same went for Lu, who rose eight spots to #100.
Bordeaux
Only two seeds survived the first round and only one of them the second round as well. Diego Schwartzman, top seed and new owner of a ATP title, knew a shocking first round exit, with wildcard Mathias Bourgue beating him 6-7(5) 6-4 6-1. In the second round Bourgue lost 3-6 6-3 6-4 to Steve Darcis, who because of injury played his first tournament in three months. He nearly managed to reach the semi-final as well, but Bjorn Fratangelo stopped him in a third set tiebreak, 4-6 6-2 7-6(3). Fratangelo won another crucial tiebreak in his next match, beating Maximo Gonzalez 7-6(5) 6-1 for a place in the final.
Elias Ymer took out second seed Lukas Rosol in the first round, 6-4 6-4, dropping the exact same number of games as in their quarterfinal encounter in Aix-En-Provence last week. A round later something even more remarkable happened, as Ymer had a nasty fall while match point up in the third set tiebreak at *6-5 against Roberto Carballes Baena, keeping him on the ground for a good while and forcing him to take a medical timeout. He recovered in miraculous fashion, however, losing the next point after he served underarm, but after that saving the match point and winning the tiebreak 9-7.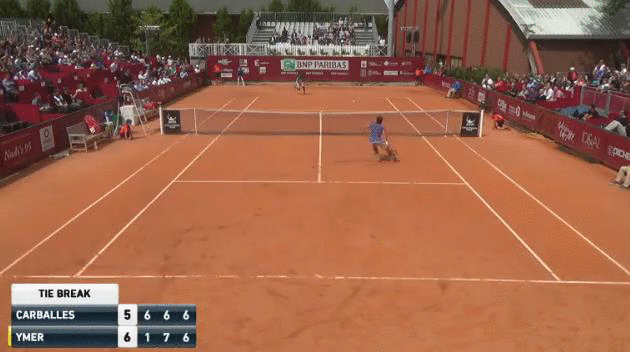 It didn't seem to be a serious injury for Ymer, as he beat qualifier Jonathan Eysseric a round later to reach the semi-final. There Ymer was outsmarted by the lone seed who made it past the second round, seventh seed Rogerio Dutra Silva, who won 4-6 6-1 6-3. The final against Fratangelo was a piece of cake for the Brazilian, winning 6-3 6-1 to claim his eighth Challenger title. Dutra Silva is now also very close to his career high ranking of #84, rising nine spots to #85. Fratangelo rose twelve spots to #104, a career high.
Heilbronn
The many matches top seed Ricardas Berankis has played recently caught up with him, losing 6-3 1-6 6-3 to Marsel Ilhan in the first round. Ilhan's opponent was decided between a blast from the past match-up between former top 10 player Janko Tipsarevic and former top 40 player Carlos Berlocq, both struggling with injury. Berlocq won 7-5 6-3 and also beat Ilhan a round later, 2-6 6-2 6-3. Rising youngster Jozef Kovalik was too much in the quarterfinal, however, with the match ending 6-1 6-4. Kovalik's semi-final opponent was Nikoloz Basilashvili, who in all honesty was fortunate to win his previous two matches against Blaz Rola and eighth seed Igor Sijsling. Against both Basilashvili was the lesser player for the biggest part of the match, but had luck and clutchness on his side when it mattered. Rola and Sijsling respectively went out with 6-7(4) 6-3 7-6(5) and 6-2 3-6 6-4 scorelines. The semi-final saw Basilashvili play a lot better, at least after a terrible first set, beating Kovalik 1-6 6-4 6-3 for a place in the final.
Despite his loss Rola went viral, due to this remarkable shot.
In the bottom half another blast from the past, former top 20 player Florian Mayer. Like Tipsarevic and Berlocq, he struggled a lot with injury. Mayer started the tournament well and took out second seed Horacio Zeballos and Frances Tiafoe in three sets. In the quarterfinal sixth seed Jan-Lennard Struff was way too strong, however, 6-2 6-3. Struff continued his dominance in the semi-final against third seed Albert Montanes, 6-0 6-3. In the final the ever unpredictable Basilashvili played another great match, taking down his second Challenger title of the year, 6-4 7-6(3). This despite hiccups at 5-3* and 5-4 in the second set, where he missed a match point in both games.
A remarkable season so far for Basilashvili, in which he either won the tournament or played terrible tennis and lost after one or two matches. If only he would be able to build some consistency into his game, because the 24-year-old has an attractive game and lot of potential. Nevertheless, he is close to the top 100 again, rising twenty spots to #105. Struff rose five spots to #102.
Samarkand
There are not a lot of people who love tennis as much as Ruben Ramirez Hidalgo. The 38-year-old refuses to retire and still has an endless passion for playing the sport, still being well capable of posting a decent result here and there. This was one of those weeks. Ramirez Hidalgo beat third seed Amir Weintraub 6-2 6-4 for a place in the semi-final against Ramkumar Ramanathan, which had to be played on the same day due to rain earlier in the week. No problem for the veteran. He ousted his 17-year younger opponent after a marathon match, 2-6 7-6(5) 7-6(0), even handing him a bagel in the deciding tiebreak. This also secured him of a record, that of oldest Challenger finalist of all-time.
Surely after effectively playing a gruelling five-set match he will be left with no chance in the final against top seed Karen Khachanov the next day, who is half his age at 19 and advanced to the final when Agustin Velotti retired after eight games? Not quite. Despite Khachanov winning the first set 6-1, Ramirez Hidalgo fought himself back into the match and in remarkable fashion managed to win the tiebreak after being 1-5* down in it, 7-6(6). A true testament to his character. There was no shame in the third set once again ending convincingly in Khachanov's favor, 6-1. Khachanov rose fourteen spots to #109 after winning his second Challenger title, a new career high. Ramirez Hidalgo made a big jump of sixty-eight spots to #250, exactly 200 spots shy of his career high ranking of ten years ago. Keep on grinding, Ruben.
Last but not least, if you follow me on Twitter (@TennisPurist) and wondered why my account has been suspended, it's because the ATP is behind it. Hundreds, perhaps evens thousands, of tennis accounts are regularly posting innocent videos about the sport we all love so dearly, providing the ATP with free advertisement through video clips of mostly thirty seconds. Yet I became the first person ever to get targeted for it due to copyright infringement, immediately resulting in the permanent suspension of my Twitter account.
Coincidentally I'm also one of the few people in the tennis world who extensively writes about match-fixing and doping, not only on Twitter but for example also through my own blog, making the reason why out of so many people to choose from the ATP only decided to target me seem very sinister. Read more about it here, I will update the thread if there are new developments: