2015 Ningbo, Brest, Bangalore, Las Vegas and Santiago Challenger Recaps
Chris De Waard, Tennis Atlantic
Ningbo
The number one Asian Challenger specialist, Yen-Hsun Lu, was the top seed in this event and the clear favorite to take down the title. He knew no problems in his opening rounds, not dropping a set on his way to the semi-final. There he faced seventh seed Peter Gojowczyk, who comfortably cruised through his matches as well, beating Jordan Thompson 6-4 6-4 in the quarterfinal, the man who took out third seed Dudi Sela in the first round. Gojowczyk was able to trouble Lu for one set, but after that the outcome of the match was settled, 7-6(3) 6-3.
In the bottom half both Japanese seeds got upset in the first round. Fifth seed Yoshihito Nishioka got hammered by qualifier Daniel Masur, 6-1 6-2, while fourth seed Go Soeda lost 6-2 3-6 6-1 to Flavio Cipolla. Masur went on to reach the quarterfinal, where he lost 7-6(6) 6-0 to Franko Skugor, a remarkable scoreline. In the bottom section sixth seed Jurgen Zopp took out second seed James Duckworth 7-6(4) 6-3 in the semi-final, after which he beat Skugor as well for a place in the final, 6-4 7-6(6). In the final Lu was too strong, however, claiming his twenty-second Challenger title after a 7-6(3) 6-1 victory, a spectacular number. He also rose fourteen ranking spots to #77, while Zopp climbed fourteen spots as well, to #147.
Brest
Benoit Paire raised a lot of eyebrows when he entered this tournament on a wild card, given that he was the world #23. That didn't mean he eased through the tournament, however. Only after 6-2 5-7 3-0 ret., 7-5 6-7(6) 6-3 and 7-6(6) 6-1 victories over respectively Maxime Teixeira, David Guez and Luca Vanni did he reach the final. There he met sixth seed Ivan Dodig, who took out Andrea Arnaboldi (the conqueror of second seed Nicolas Mahut in the first round) 6-3 7-5 in the quarterfinal, before overcoming Edouard Roger-Vasselin 4-6 6-3 6-2 a round later for a place in the final. There Paire pulled one of his vintage antics, pretty much tanking the match away after going up *5-1 in the first set, losing 7-5 6-1. Paire rose two ranking spots to #21, while Dodig made a big jump of twenty spots to #102.
Bangalore
Second seed James Ward went through a disastrous period after reaching the top 100 for the first time in July, losing ten matches in a row. In Bangalore he was able to recover in great fashion, however. He reached the semi-final without dropping a set, after which he overcame Daniel Nguyen in the semi-final after a tough encounter, 4-6 6-4 6-3. Top seed Adrian Menendez-Maceiras surprisingly dropped a set against qualifier Prajnesh Gunneswaran in the second round, but didn't slip up again after that, beating third seed Saketh Myneni 6-4 6-4 for a place in the final. There Ward was too strong, with the Brit taking down his fourth Challenger title after a 6-2 7-5 victory. He rose sixteen ranking spots to #143, while Menendez-Maceiras dropped three spots to #140, since he noted the same result last year.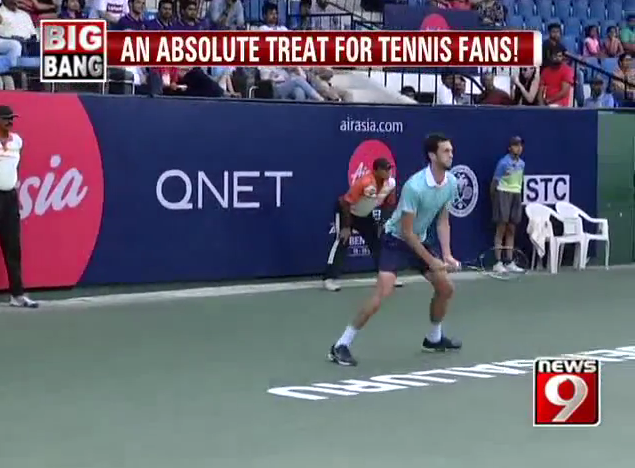 They really love their Challenger tennis in Bangalore.
Las Vegas
Eighth seed Dennis Novikov continued his great form as of late, taking out top seed Austin Krajicek in the quarterfinal after a titanic battle, 7-6(2) 3-6 7-6(3). Another titanic battle followed in the semi-final against Grega Zemlja, but this time with another winner, as Zemlja won 4-6 6-2 7-6(5) to advance to the final. A great achievement, as he survived three-setters in all his matches, taking out Dustin Brown, Taylor Fritz and Blaz Rola in the first three rounds. In the bottom half Blaz Kavcic took out second seed Tim Smyczek in the second round, 7-6(5) 6-4. He took out sixth seed Jared Donaldson as well a round later, 3-6 7-5 6-1, before falling to seventh seed Thiemo de Bakker in the semi-final, 7-6(5) 4-6 6-4. Zemlja would play his fifth three-set match in the final, but this time he couldn't win, as De Bakker took home his ninth Challenger title after a 3-6 6-3 6-1 victory. He rose twenty-four ranking spots to #117, while Zemlja rose twenty-eight spots to #175.
Santiago
The tournament lost top seed Diego Schwartzman quickly, as he had to retire during his second round match against Maximo Gonzalez with the flu. Gonzalez beat seventh seed Andre Ghem a round later, 6-4 4-6 6-4, before succumbing to eighth seed Rogerio Dutra Silva in the semi-final, 6-3 0-6 6-3. Dutra Silva took out fourth seed Joao Souza a round earlier in an absolute epic, 4-6 6-3 7-6(6). In the bottom half countrymen Carlos Berlocq and Horacio Zeballos faced each other for a place in the final, with Zeballos prevailing in two tight sets, 7-5 7-6(5). Zeballos was impeccable on serve and rarely gave Berlocq room to breathe because of it. In the final Dutra Silva continued his remarkable run of form, which saw him climb 150 ranking spots from the start of the year already, and beat Zeballos 7-5 3-6 7-5 to claim his second Challenger title of the year and seventh overall. He rose twenty-seven ranking spots to #124, while Zeballos rose sixteen spots to #136.