2017 ATP Doha Preview and Predictions
Steen Kirby, Tennis Atlantic
The other top tier 250 this week takes place in Doha, Qatar, where three top 10 players make their Aussie Open preparations. Here is a preview, with predictions.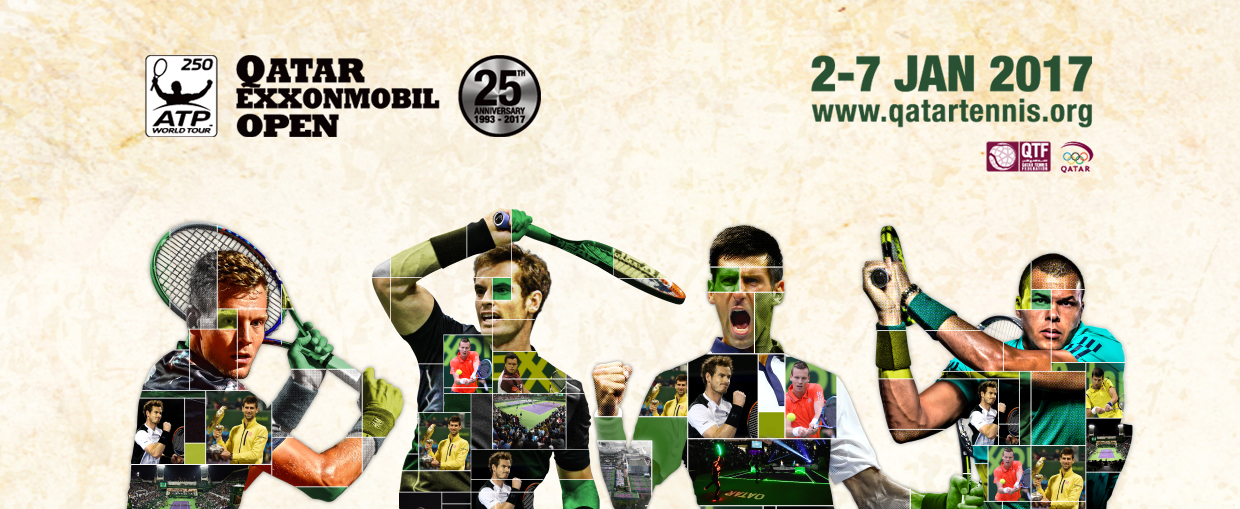 Qatar ExxonMobil Open
ATP World Tour 250
Doha, Qatar
January 2-7, 2017
Surface: Hard
Prize Money: $1,237,190
Top 4 seeds (ATP ranking in parentheses)
1: Andy Murray (1)
2: Novak Djokovic (2)
3: Tomas Berdych (10)
4: David Goffin (11)
The world's top two have decided to start their 2017 seasons in Qatar, as this is once again a lucrative and strong 250.
First round matches to watch:
Malek Jaziri vs. (7)Philipp Kohlschreiber
A match between a pair of veterans. Kohli is 3-0 in his career against the local favorite Jaziri but the German had a disappointing year on hard courts going just 9-8 on the surface in 2016. Jaziri reached the top 60, in large part due to his strong results at the challenger level. The Tunisian went 27-15 on hard courts and would love an upset win to start his year. Kohli is the clear favorite though.
Andrey Kuznetsov vs. (5)Jo-Wilfried Tsonga
Kuznetsov posted a career best 29-21 record in 2016 and reached the ATP top 50. The now 31 year old Tsonga went 38-17, including a solid 19-9 hard court record. Tsonga should be in good enough form and fitness heading into this matchup to defeat the Russian with aggressive play, but this still not an easy first round matchup.
Top Half:
World #1 Andy Murray, newly knighted, started his season in Abu Dhabi at an exhibition, and will open with veteran Jeremy Chardy, who he has a great h2h with, in round 1, with the Kohlschreiber/Jaziri winner likely in the quarters. dirtballer Gerald Melzer opens with veteran Paul-Henri Mathieu, while two more veterans, Nicolas Almagro and Paolo Lorenzi are also in this section. Almagro is 4-0 in the h2h against Lorenzi, but the Italian had a career year in 2016, making huge strides on hard courts. This isn't a difficult section for Murray, who likely slides past Kohlschreiber to reach the semifinals.
The Tsonga/Kuznetsov winner will get Facundo Bagnis or shotmaker Dustin Brown in round 2, Tsonga should be safe to advance until he runs into Tomas Berdych in the quarters. Berdych opens with qualifier Alessandro Giannessi, a 26 year old with limited ATP experience. His Czech counterpart Jiri Vesely should follow in round 2, as wild card Anil Yuksel is making his ATP main draw debut. The 23 year old Vesely remains a talent but he was a rather pedestrian 21-20 at the tour level last year. Berdych went 40-21, with 22 of those wins coming on outdoor hard courts in 2016. Berdych leads Tsonga 8-2 in the h2h, and should be the favorite to reach the semifinals.
Bottom Half:
Novak Djokovic went 67-9 in 2016, despite his great successes on the season, he surrendered the world #1 ranking at the end of the season, and now has something to fight for in 2017. Djokovic's early path is routine as Jan-Lennard Struff, and Horacio Zeballos/Florian Mayer aren't likely to be more than hitting partners for the Serbian. Marcos Baghdatis has a 2-1 h2h against fellow veteran Radek Stepanek. Stepanek came through qualifying and their match should be fun to watch if you're a fan of attacking tennis. Baghdatis went 26-23 in 2016, while Stepanek, now 38, went 33-15 overall, with a majority of his wins coming on the challenger tour level. Baghdatis is favored to win in round 1, with qualifier Mohamed Safwat or wild card Arthur De Greef to follow. The 26 year old Safwat has limited ATP experience while De Greef is playing just his third career ATP match at age 24. De Greef prefers clay, so Safwat should fall to Baghdatis in round 2, with Djokovic winning his quarterfinal against Baghdatis.
David Goffin looks hungry to renew his success in 2017 after a 51-25 record in 2016. Goffin should ease past Robin Haase in round 1, with either Fernando Verdasco or qualifier Vasek Pospisil to follow. Pospisil had a terrible 2016, going just 9-22 at the tour level, and thus his ranking his dropped outside of the top 100. Verdasco went just 29-26 for his part in 2016, but should be slightly better than Pospisil to start the season. Goffin over Verdasco is my pick to reach the quarters. Veteran Ivo Karlovic, now 37, went 32-24 in 2016, while his first round opponent Illya Marchenko broke through at the ATP level in 2016 posting a 26-28 record overall. Karlovic's serve should be enough to get him past his round 1 match, and into the quarters after he defeats 20 year old Karen Khachanov, who opens with local wild card Mubarak Shannan Zayid. Khachanov reached the ATP level in 2016 with a 50-27 record overall. Goffin over Karlovic is my pick for the quarters.
Dark Horse: Karen Khachanov
Goffin, Djokovic, Murray, and Berdych/Tsonga look safe to reach the semifinals, but of those four spots, Goffin is the most vulnerable to an upset. Khachanov made big strides in 2016 and Karlovic is beatable if his first serve percentage is off. Getting past Karlovic and Goffin won't be an easy path, but perhaps the Russian can make some headlines to start the season.
Predictions
Semis
Murray d. Berdych
Djokovic d. Goffin
It'd be an unlikely result if the world #1 and #2 fail to reach an ATP final to start the season, as they prepare for the Aussie Open.
Final
Murray d. Djokovic
Murray triumphed over Djokovic late in 2016, and for now I have to predict that momentum will continue in this tough to predict matchup.