2016 ATP Madrid Preview and Predictions
Steen Kirby and Niall Clarke, Tennis Atlantic
It's time for the second clay court masters tournament of the season, as most of the world's top players will descend on the capital of Spain to duel in the magic box. Tennis Atlantic is excited to once again have credentialed coverage from the Mutua Madrid Open, as Niall Clarke will be providing you with reports on the day's matchplay. Here is a preview and prediction for the ATP side of the tournament.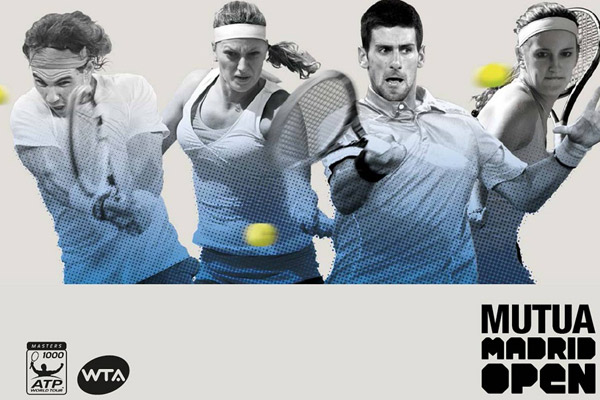 Mutua Madrid Open
ATP World Tour Masters 1000*
Madrid, Spain
May 1-8, 2016
Surface: Clay
Prize Money: €4,771,360
*denotes joint ATP/WTA event
Top 8 seeds (who all receive first round byes) (ATP ranking in parentheses)
1: Novak Djokovic (1)
2: Andy Murray (2)
3: Roger Federer (3)
4: Stan Wawrinka (4)
5: Rafael Nadal (5)
6: Kei Nishikori (6)
7: Jo-Wilfried Tsonga (7)
8: Tomas Berdych (8)
Marin Cilic, John Isner, young gun Alexander Zverev, and Martin Klizan are the only notable players missing from the tournament. Jiri Vesely, who recently stunned Novak Djokovic on clay in Monte Carlo, is also absent.
First round matchups to watch:
Embed from Getty Images
(WC)Nicolas Almagro vs. Borna Coric
Madrid features some great first round matchups, and this is certainly one of them. The veteran Spaniard Almagro just won the title in Estoril, and is clearly comfortable both on clay, and in Madrid. He's experiencing a bit of a career resurgence right now, and would like to keep the momentum going. Borna Coric was a quarterfinalist in Estoril, and also a finalist in Casablanca, as the Croatian young gun continues to steadily improve his standing on the ATP tour.
Given the fatigue factor, I favor Coric to win this, as Almagro is coming off of a three set final.
Leonardo Mayer vs. Feliciano Lopez
Mayer beat Lopez in Madrid last year, and he comes off the quarters in Estoril. Lopez has a semifinal in Houston, and won a round in Barcelona, so while he's no clay court specialist, he is playing at a home tournament, and has a bit of momentum working in his favor. This should be a close match, as the baseliner Mayer will play a more traditional clay court game, while Lopez will look to be aggressive. This one could go either way, but I narrowly favor Lopez.
Philipp Kohlschreiber vs. Pablo Cuevas
Kohlschreiber is 32, and 7-1 in his last two tournaments, thus his clay court form is great, but he should be on upset alert given the fatigue factor, against an accomplished clay courter in Cuevas. This is a tough first round match for the Munich champion, as Cuevas keeps the ball in play, and is 2-2 in his last four clay court matches, after a strong Golden Swing earlier this season. Cuevas should grind Kohlschreiber down, and pull an upset.
Embed from Getty Images
(12)David Goffin vs. (Q)Lucas Pouille
David Goffin drew the toughest qualifier, as Lucas Pouille is nearly into the top 50 at 22, and beat him in Brisbane this year in a huge upset. Pouille is 8-2 in his last 10 matches, and reached a clay court final in Bucharest recently. He's rapidly improving his game that has plenty of weapons, while Goffin has limped to a disappointing 3-2 record on clay this Spring, and does not appear to be dialed in thus far on the surface.
Goffin was once in great form, and he could still win this match, but a Pouille win wouldn't surprise me, and this match should feature incredible ball striking.
(14)Dominic Thiem vs. Juan Martin Del Potro 
The Munich finalist Thiem is 5-2 on spring clay thus far, and looks to be playing well. I have him making a deep run here, and this match against Del Potro could turn into a mere formality. However, he could be suffering from fatigue after playing the Munich final, and the big hitting Del Potro is slowly finding form. Del Potro won a pair of matches in Munich, and is at least a credible ATP level player right now. The style contrast will be interesting.
Embed from Getty Images
Jack Sock vs. Benoit Paire
Houston finalist Jack Sock is making his debut this season on European clay. Unlike many of the American players, he can play well on the surface, and certainly has a chance to win this match against Paire. The Frenchman has made consecutive semifinals in Barcelona, and Estoril, he's inconsistent usually, but he's found form as of late.
Sock will contest this match hard, but I have Paire better on clay, and advancing.
(WC)Pablo Carreno Busta vs. Grigor Dimitrov
A hobbled Grigor Dimitrov suffered defeat in the ATP Istanbul final, and appeared to be extremely upset  and frustrated with himself. The Bulgarian #1 is 3-0 against PCB though, and the Spaniard is coming off of his own ATP final in Estoril. PCB played well in Estoril, scoring four wins, three of which came over solid ATP players, and he also has a clay quarterfinal in Casablanca this year.
Dimitrov is 4-2 on spring clay, and should be the favorite, but I'm not sure where his head will be for this match.
Embed from Getty Images
Djokovic's Quarter
Novak Djokovic hasn't won the Madrid Masters since 2011, and he suffered his first clay loss of the season to Jiri Vesely in Monte Carlo. That was a stunning defeat, but you have to assume the world #1 will recover, and go relatively far in Madrid, if not win the tournament. Djokovic will open with the Almagro/Coric winner, Coric could give him a good test, but he should win that match and then defeat Roberto Bautista Agut to reach the quarters. The Spaniard opens with qualifier Santiago Giraldo with either Mayer or Lopez to follow. RBA is normally solid on clay though he lost in Barcelona, thus he's the favorite for a third round spot.
Milos Raonic hasn't lost before the quarterfinals in a tournament this season, he should be able to continue that streak with wins over Thomaz Bellucci, Alexandr Dolgopolov, and Jo-Wilfried Tsonga, though Tsonga is by far the toughest opponent of that group. Bellucci has been struggling mightily, Dolgopolov just beat Steve Johnson in a round 1 three setter and is unpredictable, coming off a quarterfinal in Barcelona. Tsonga was a semifinalist in Monte Carlo, where he beat Roger Federer,  and he should be able to get past Istanbul quarterfinalist Albert Ramos (or Jeremy Chardy), in round 2.
Raonic beat Tsonga in 2014 on clay, and his strong and consistent play is why I have him reaching the quarters.
Wawrinka's Quarter
Stan Wawrinka has been in poor form in recent months, most recently dropping a quarterfinal match in Monte Carlo. However, he's a solid clay court player and a former Madrid finalist. One of the most anticipated matches of round 2 should be Wawrinka against Nick Kyrgios. Kyrgios has reached consecutive semifinals, including on clay in Estoril. He'll need to defeat Bucharest quarterfinalist Guido Pella first. Wawrinka and Kyrgios have a heated rivalry, though they have only met three times, given this is clay, I give Wawrinka a slight edge to advance, but wouldn't be surprised if Kyrgios won.
Pablo Cuevas is my dark horse pick to reach the third round, after Kohlschreiber, he's likely to face Gael Monfils. Monfils has been in great form and reached the final in Monte Carlo, but he has was injured and had to withdrawal from Munich. His opening round opponent Kevin Anderson has been injured himself, and thus he should win that match, but I don't trust Monfils to consistently be able to post solid performances yet, and Cuevas excels at keeping the ball in play and grinding through matches. Wawrinka or Kyrgios should defeat Cuevas in round three though, Monfils is a bit of a wild card in this section too, full of talented, but wildly varying performers.
Kei Nishikori, a finalist in Barcelona, and a former finalist in Madrid, should be the favorite to win this quarter. Nishikori does not have an easy draw, but he's reached consecutive ATP finals, demonstrating the tremendous form he's riding right now. Barcelona quarterfinalist and Munich semifinalist Fabio Fognini is also playing well, and he should dispatch a struggling Bernard Tomic in round 1. Tomic has lost three straight.
Richard Gasquet is set to face Nishikori in round 3, Gasquet opens with qualifier Roberto Carballes Baena, with Fernando Verdasco to follow. Verdasco just beat Juan Monaco in round 1 and took the title in Bucharest. The veteran Spaniard is playing at home, and is in form, while Gasquet isn't in great form, but his superior talent should get him through the first two rounds, before falling to Nishikori. Gasquet is 6-0 against Nishikori but has never faced him on clay.
Federer's Quarter
Roger Federer is a three time champion in Madrid, and came off the Monte Carlo quarterfinals after returning from injury. Federer is perhaps the highest seed most likely to exit before the quarterfinals as I have him losing to the talented, and in-form Dominic Thiem. Federer will open with either Joao Sousa or Nicolas Mahut, both players are struggling, and that means Federer should win with ease. Thiem will face the Sock/Paire winner after Del Potro, he could lose that match if he's fatigued, but his great form has me picking him to go as far as the quarterfinals.
Rafael Nadal has four career titles in Madrid, and is defending finals points here as well. He should easily defeat either Andrey Kuznetsov or Viktor Troicki, most likely Kuznetsov as he comes off a quarterfinal in Barcelona. Nadal against Goffin is my pick for the third round. After Pouille, Goffin will face Pierre-Hugues Herbert, or Sam Querrey in round 2. The qualifier Herbert has been in great form (qualified for all Masters singles draws this season), particularly in doubles, and he could spring a surprise. Querrey reached the quarterfinals in Houston, but is usually poor on clay. Nadal should demolish Goffin or Pouille to reach the quarters.
Murray's Quarter
Andy Murray is the defending champion, and he has a rather easy draw to get back to the quarterfinals at least. The weakest section of the draw features Vasek Pospisil or qualifier Radek Stepanek as Murray's first opponent, with most likely Gilles Simon to feature in round 3, though Simon has to defeat veteran Marcos Baghdatis and PCB/Dimitrov first. Simon has never played Baghdatis on clay, and he's 3-2 in his last five matches on the surface. Baghdatis is normally poor on clay. PCB is an interesting dark horse here, but I presume fatigue will end his march. Dimitrov's lack of focus should help Simon advance, before falling to Murray, who reached the semis in Monte Carlo, his only stint on clay this season.
Tomas Berdych and David Ferrer are the top seeds in the competitive section above Murray. Berdych is a former Madrid finalist, while Ferrer was twice a semifinalist at home in Spain. It'll be Berdych against either qualifier Denis Istomin, or a struggling Teymuraz Gabashvili in round 2, while Ferrer opens with countryman Guillermo Garcia-Lopez. Ferrer won both meetings against GGL last year in dominating fashion, GGL has a quarterfinal and a semifinal in recent weeks on clay, and Ferrer has been struggling, but the talent gap is still there. Ferrer against qualifier Denis Kudla is my pick for round 2, Kudla has a recent challenger semi on clay, while Ivo Karlovic snapped a long losing streak to reach the semis in Istanbul in improbable fashion. The veteran likely loses in the opening round this time.
Ferrer and Berdych have a competitive h2h, Berdych did lose in the opening round of Monte Carlo, but I have a feeling he'll rebound and do well in Madrid with his power game.
Dark Horse: Pablo Cuevas and Lucas Pouille
If you're looking for unseeded players in the top and bottom half who might make a splash, look no farther than Cuevas, who should face opponents at less than 100% until he faces Wawrinka/Kyrgios round 3, and Pouille, who has to defeat Goffin, and Herbert/Querrey to setup an interesting third round match with Nadal. Nadal and Wawrinka/Kyrgios should both prevail, stopping either player from reaching the second week, but they are both clay court threats.
Predictions
Quarters
Djokovic d. Raonic
Nishikori d. Wawrinka
Nadal d. Thiem
Murray d. Berdych
On clay, Djokovic, and Nadal are both clear favorites, though Thiem has a win over Nadal this year, Rafa got him back in Monte Carlo. Nishikori is in better form than Wawrinka, and Murray should have the edge over Berdych given the surface and stage.
Semis
Djokovic d. Nishikori
Nadal d. Murray
Nishikori seems to lack the staying power to compete with Djokovic from the baseline, while Nadal is a cut above Murray on clay right now, as he demonstrated in the Monte Carlo semi.
Final
Djokovic d. Nadal
A possible preview to the French Open "final" before the final, Djokovic has won six straight against Rafa, including two matches this year, and most of their contests haven't even been close. Nadal has won two straight tournaments on clay (Monte Carlo and Barcelona), but he did so without facing Djokovic, and until he proves to me that the current Rafa can defeat the current Novak, I have to pick Djokovic to win this title.
Embed from Getty Images